Created in June 2010 by the Club of 18 world clusters, the goal of the EIP label (label for competitiveness cluster innovative company) is to increase the visibility and the audience of very small and small to medium size companies of competitiveness clusters with private investors. 
Member companies of signatory clusters are eligible if they meet the criteria of excellence in terms of innovation and competencies, as well as company and market quality projects. To obtain this label, each winner is accompanied based on their level of maturity so as to express clearly their market position and value proposition, so as to offer a business plan that meets investor expectations. Each competitiveness cluster adapts its jury to the specifics of its sector, then labels the very small and small to medium companies according to a process defined by the EIP Label Charta.
To find out more about the EIP label, click on this link : http://www.afpc.eu/
---
---
Press release,
May 29, 2019
The last General Assembly of the Plastipolis competitiveness cluster held in Dijon the 21st May was the occasion to honor a member from the Burgundy-Franche-Comté Region.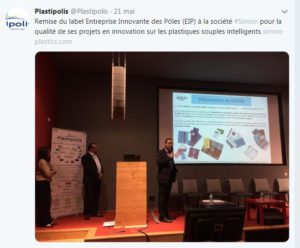 Simon SAS (https://simon-plastics.com/ ) has been in existence since 1962 (with 15 staff and a € 2 million turnover) and is specialised in the design and manufacture of plastic promotional folders (over 10 million units per year), as well as other customized advertising objects for the big French banks, pharmacies and a variety of industrial or service companies (transport, travel).
With over 1,000 referenced tools, a permanent renewal in its range of materials, textures and colors, an exceptional driving force for sales and innovation, SIMON is a leader in France in the plastic folder market. All of us have had a product from this company in our hands.
The president, Christophe BERTRAND, took over the company in 2017 and brought in a spirit of innovation by launching major schemes in digital printing and also with a connected folder.
Fitted with an electronic chip, SIMON folders and pockets can now speak to the consumer or client, who simply has to use their smartphone to access folder data selected by an NFC tag. The applications range from e-commerce to augmented reality, using video, technical information, communication, marketing, promotional offers, etc the goal being to give new value to a product that has become commonplace.
This latest innovation, launched very recently, has had a very promising reception from the company's present clientele.
This innovation, discerned by the Plastipolis teams, was validated by a diagnosis of the company and by the evaluation of its industrial committee: this enabled this 50-year-old company to be awarded the Innovative Cluster Company label. Innovation has no age and other projects linked to the eco-responsibility of the company are already underway.