Yet another award for Simon, the company CEO, Christophe Bertrand and the Simon staff!
The region of Burgundy Franche Comté organized the first of its RSE award ceremonies on Monday 15 October 2018, in the meeting room of the regional council offices in Dijon, in the presence of Jean-Claude Lagrange, vice president in charge of economic development, and Francis Cottet, regional councillor in charge of social innovation. Eight companies were rewarded for their exemplary approach in this field, including Simon in the category of companies with less than 50 employees.
This recognition was preceded by an RSE evaluation (based on the 7 key questions from the international standard ISO 26 000 from 2010) carried out by independent consultants, specialists in RSE.
The quality of Simon's candidature caught the attention of the jury, made up of the following partners:
ADEME Burgundy Franche-Comté

CCI Burgundy Franche-Comté

Direccte Burgundy Franche-Comté

Direction Régionale de l'Environnement, de l'Aménagement et du Logement de Burgundy Franche-Comté

CRESS – Chambre Régionale de l'Economie Sociale et Solidaire – de Burgundy Franche-Comté

Agence Economique Régionale de Burgundy Franche-Comté

AFNOR
A magnificent trophy made by the students of the Varzy Professional School – Wrought Iron Work – was presented to Christophe Bertrand by Madame Nelly Vulcano-Greuillet, in charge of the departmental coordination of climatic energy policies of the DREAL of Burgundy Franche Comté.
You will find many articles published in the press on this subject by clicking on the links below ; the first one is about the recent participation of Christophe BERTRAND, Simon's Président at the RSE Forum of Burgundy Franche-Comté last octobre:
---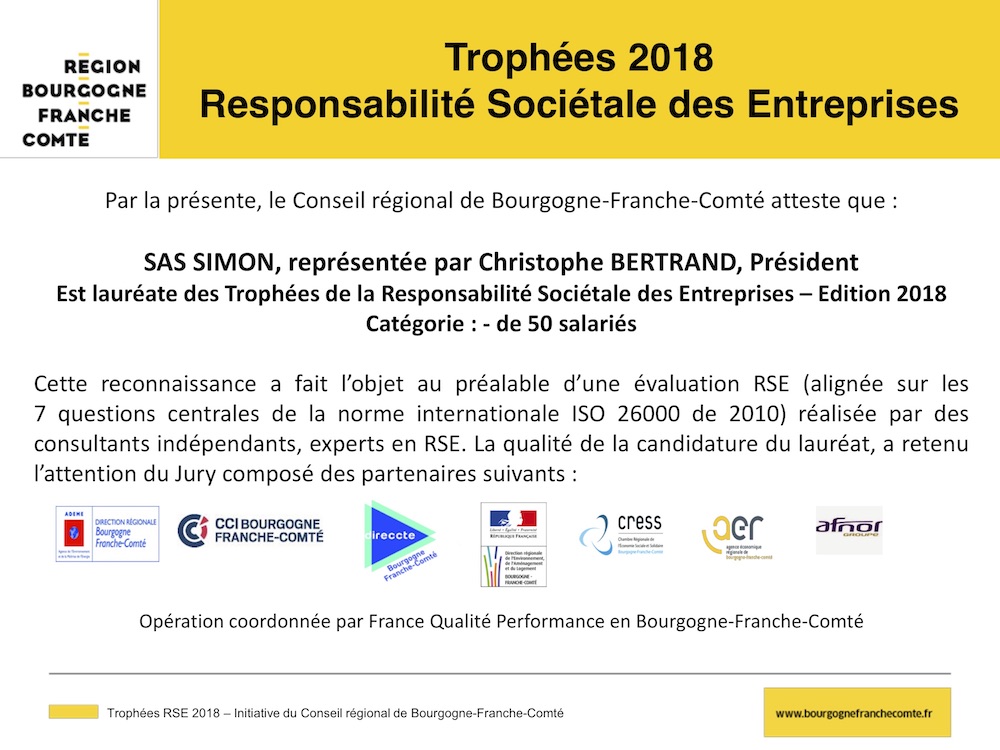 ---